http://www.nzherald.co.nz/nz/news/article.cfm?c_id=1&objectid=11373787
Auckland parade marks WWII battle
11:31 AM Saturday Dec 13, 2014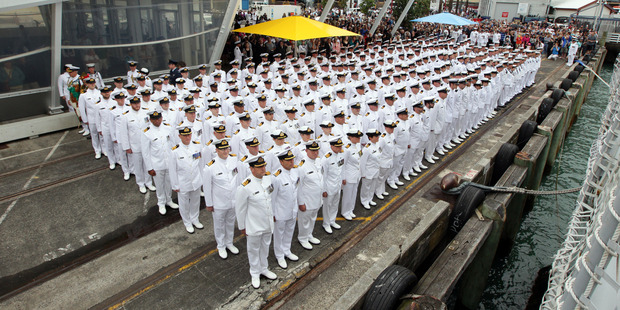 Kiwi veterans joined nearly 600 sailors for a parade down Auckland's Queen St this morning to mark the 75th anniversary of the Battle of the River Plate.
HMS Achilles was the first New Zealand unit to strike a blow against the enemy in World War Two, when it engaged the German pocket battleship Admiral Graf Spree off the coast of Uruguay on December 13 1939.
Veterans John Thomson, Roy Wade, Harold Heffer and Robert Batt, all in their 90s, were awarded service medals on board HMNZS Te Kaha by the Governor-General, Sir Jerry Mateparae.
There were hundreds of people lining the streets cheering and applauding as the veterans were ferried down Queen St in vintage cars.
The Auckland event, which started at 11am, re-created the HMS Achilles homecoming parade in 1940.
Surviving veterans of HMS Achilles led proceedings in four vintage cars.
They were followed by the Royal New Zealand Navy Band and 582 sailors of the Royal New Zealand Navy.
Behind them were 100 Sea Cadets, the Navy Pipes and Drums Band and the families of veterans who are no longer alive.
Following the parade, Sir Jerry presided over a ceremony on Te Kaha at Queens Wharf to pay tribute to the four remaining veterans, now aged in their 90s, for their service to New Zealand.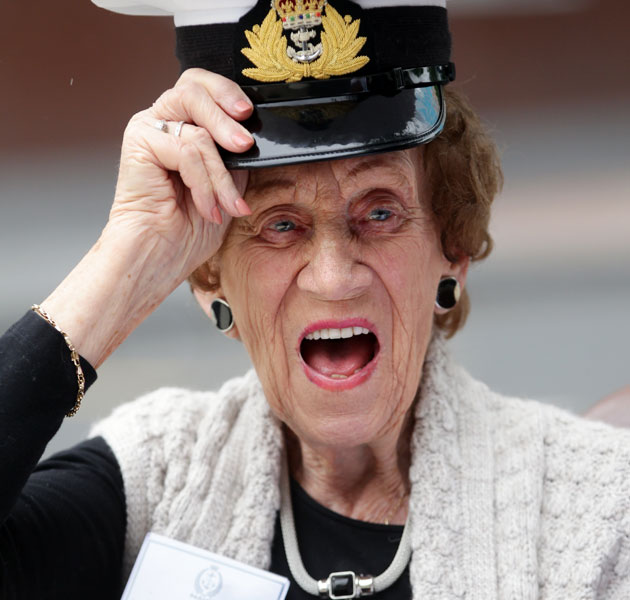 The Battle Of The River Plate 75th Anniversary March on Queen Street Auckland today. Pictured is Joy Thomson. Photo / Doug Sherring
The day began with a memorial and wreath laying at Achilles Point, St Heliers, at 9am.
This was attended by the Governor-General, the ambassadors of Germany, Argentina and Uruguay, the high commissioners of India and Britain, and New Zealand's Chief of Navy, Rear Admiral Jack Steer.
The Battle of the River Plate in 1939 was prior to the formation of the Royal New Zealand Navy in 1941.
At the time of the battle, HMS Achilles had been loaned to New Zealand by the Royal Navy and was crewed on the whole by New Zealanders.
HMS Achilles was manned by 312 New Zealand Navy personnel. The famous battle was a morale-boosting victory for the Allies.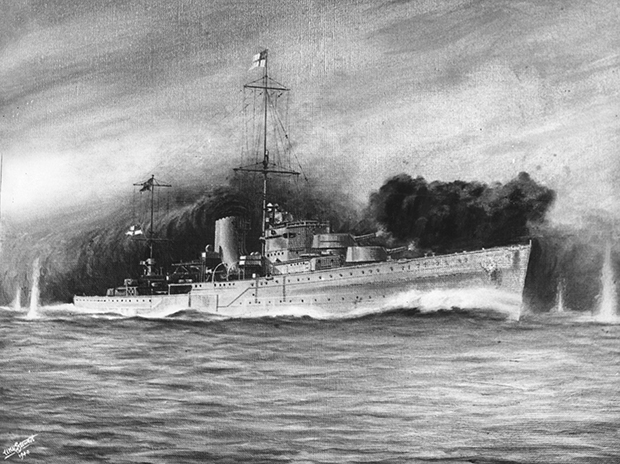 HMS Achilles in action at the Battle of River Plate. A painting by W.W.Stewart of Auckland. Photo / NZ Herald Archive