Hi there
Whether we like it or not, the year is drawing to a close. It's time to review our achievements this year and consider our goals for 2015. Do we want to go further or faster? Perhaps try something completely different; a marathon, triathlon, or cycle sportive?
The nice thing about this time of year is that everything winds down. There is time to catch your breath and think about things – before it starts all over again.
Enjoy your Christmas break. We look forward to catching up with you again in the New Year.
Kind regards,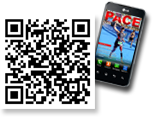 Every year, Singapore Marathon sends me this email, reminding me that 10 years ago, I ran the Marathon, albeit 10 ks.
My students are very impressed.